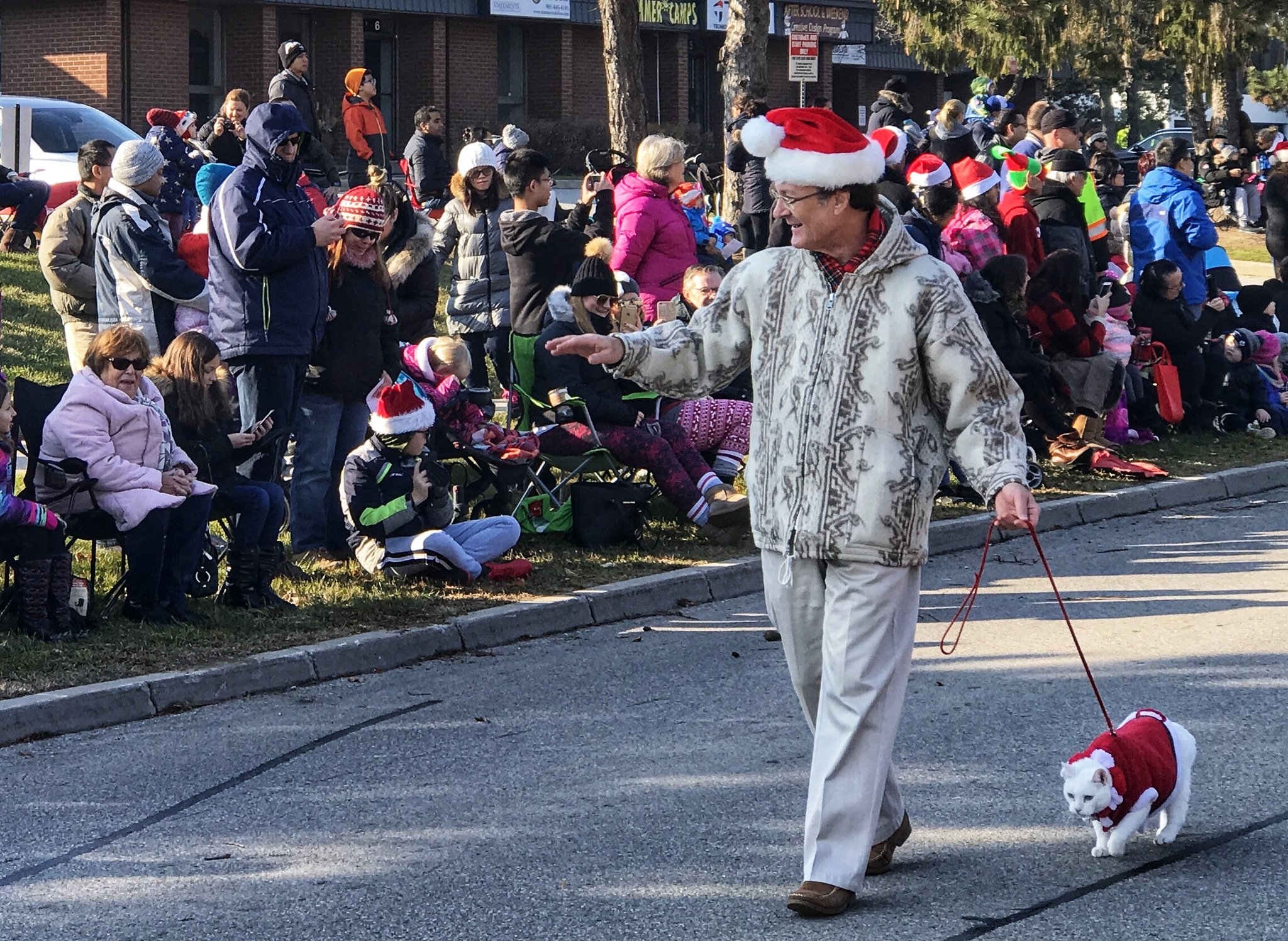 Merlin is no stranger to the catwalk.
A feline fixture at the side of Liberal MPP Bob Delaney for two years, the white-coated, red-vested pet turned heads at the Mississauga Santa Claus parade last Sunday. Delaney has had to print "calling cards" featuring his Siamese-domestic shorthair just to hand out to adoring strangers — at public events, on Merlin's daily neighbourhood jaunts, or at the cat's weekly mani-pedi.
But the whiskered wizard has handled bigger hairballs than a mere holiday purrade.
"He was invited by name, personally, by the consul-general from Turkey for the International Children's Day Festival," Delaney notes with pride of Merlin's appearance at Nathan Phillips Square this year.
"The consul-general is a big cat guy."
While Merlin was the first feline "in the history of the Santa Claus parade in Mississauga" to strut the asphalt, "he and I did most of the outdoor events for Canada 150 together" as well, Delaney says. Merlin, he claims, is the "city's best-known cat."
An outdoor kitty with claws and a predilection for cuddling, Merlin has only been in the Delaney household for a couple of his 14-plus years (he turns 15 in January). He came from a Pet Valu store by way of Ninth Life Cat Rescue after his previous owner moved to a hospice, Delaney says.
"I went in and I saw Merlin walking around . . . I picked him up and, quite frankly, it was he who adopted me," Delaney recalls.
It was love at first purr. "I just knew the moment I picked him up I had to have this animal," he says. "I have never had that feeling before."
Mississauga Mayor @BonnieCrombie led the Mississauga Santa Claus Parade in Erin Mills on Sunday afternoon. Merlin walked in the parade for the second time, the only cat ever to walk in the parade. I was pleased to represent Ontario in the parade. pic.twitter.com/apcEisvZnw

— Bob Delaney (@BobDelaneyMPP) December 4, 2017
The 14-year MPP for Mississauga-Streetsville describes his stout sidekick — the leash-walking began as a way for Merlin to lose weight — as a "gentle, affectionate, easy-going, handsome boy who knows that people like him."
The cat's first appearance in front of Toronto city hall last year found Delaney with his speech in one hand "and Merlin in the other." He stretched across the podium, waited patiently for his master's remarks to wrap up, then punctuated the conclusion with a meow directly into the mic.
Reflects Delaney: "I think we enhance each other's image."
Photo source: Twitter